Salesforce is the number one CRM platform in the world and an excellent way to track customer data. The platform offers native integration with various email clients, including all popular Microsoft Outlook™. Integrated Email is fantastic, but what about the rest of the activities of sale or support functions of your business?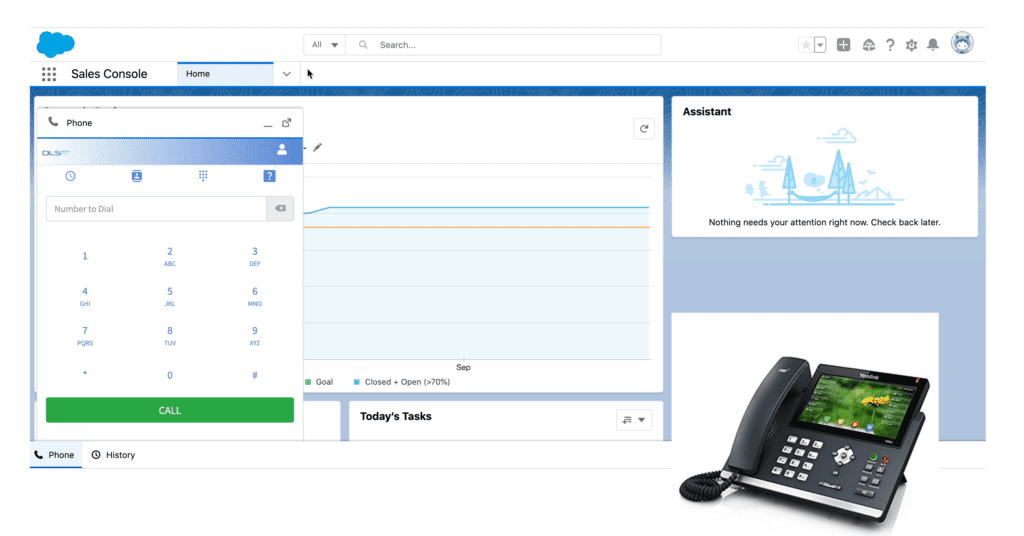 Why link Hosted PBX with Salesforce?
Clearly, the more information you can collect about your business interactions with the client, the more business intelligence you can rely upon in your future sales or support strategies. You want to capture interactions over emails, calls, texts, and other means of communication used to conduct business with your customers.
Marketing research shows that while Email continues to be the undisputed leader in business communications. Face-to-face and voice conversations also remain among the most effective means of communication.
Having accurate and transparent data about these conversations at your disposal may mean the difference between closed and lost deals. It has a considerable impact on customer satisfaction.
How does DLS Hosted PBX integrate with Salesforce?
While integrating any call center phone system with Salesforce data, two factors are essential to achieve the best type of integration for business needs.
Consider the data you want to save in Salesforce: This may include tracking the phone activities such as which user initiated a call, the call duration, call time, sentiment analysis and recording of the phone conversation, etc.
Consider the added functionality about using Salesforce data: This action-based concern is about data usage rather than storing it. For example, screens pop out about customer details and implement click-to-dial technology to make fast and effortless outbound calls.
Salesforce incorporates computer telephony integration (CTI), and when VoIP phone services integrate with Salesforce, the benefits compound. By linking your DLS Hosted PBX to your Salesforce account, you will directly access all relevant call activity information from the CRM. For example, you can associate call events with customer records, access call time, duration, source, destination, disposition (just a fancy word that tells you whether someone answered the call or not), and, if available, an actual recording of a phone call or voicemail.
DLS Hosted PBX Salesforce integration module allows salespeople who aren't at their desk, for example, to attach their notes to a phone call event that occurred in the past or take call notes in real-time (while the call is in progress).
What functionality will DLS SalesForce Module Support?
We are still testing the Salesforce integration module for DLS Hosted PBX. Our goal is to have it available as a part of the DLS Hosted PBX 5.6 release. Here is a shortlist of capabilities that the DLS Hosted PBX Salesforce module will provide
Screen pop-out invoking customer's record based on caller-id
On-screen call control
Taking notes while on a call with the existing or new client
Creating a new client record based on data from a phone call that occurred in the past.
Access to associated call detail record of the attached call
Access to call recording and voicemail of the attached call
Click to Dial from the Salesforce
Currently on our roadmap for the future releases:
Automatic logging of missed calls to Salesforce, including voicemail.
Ability to log calls directly from the Web Communicator,
Ability to route calls based on salesforce objects,
Scheduling calls from Salesforce for follow-up and callback.
Ability to send/receive SMS/MMS from Salesforce and log SMS activity inside Salesforce,
Offering an affordable alternative to Tenfold and others
3rd party CTI applications from Tenfold, InGenius, RingDNA, and other providers offer many benefits of integrating with almost any phone system. The main drawback of these services is their hefty licensing costs. These costs, in part, are due to the added cost of the development of these 3rd party voice connectors aimed to support every popular voice platform. You, however, don't need to fund their noble cause because your business utilizes only one platform. And the people that best know this platform are those who designed it in the first place.
Our goal is to provide
Maximum reliability, voice quality, excellent connectivity, and reliable data
Tools for customer service and call center teams, skilled-based call routing to match callers with qualified agents, reconnecting dropped calls, ring groups, and unlimited queues
Integration through API working at the software architecture level allows you to choose how to connect your system.