Salesforce is the number one CRM globally and an excellent tool to track customer data. It works with many email clients, including a popular Microsoft Outlook™. Tracking email is great, but what about other business conversations?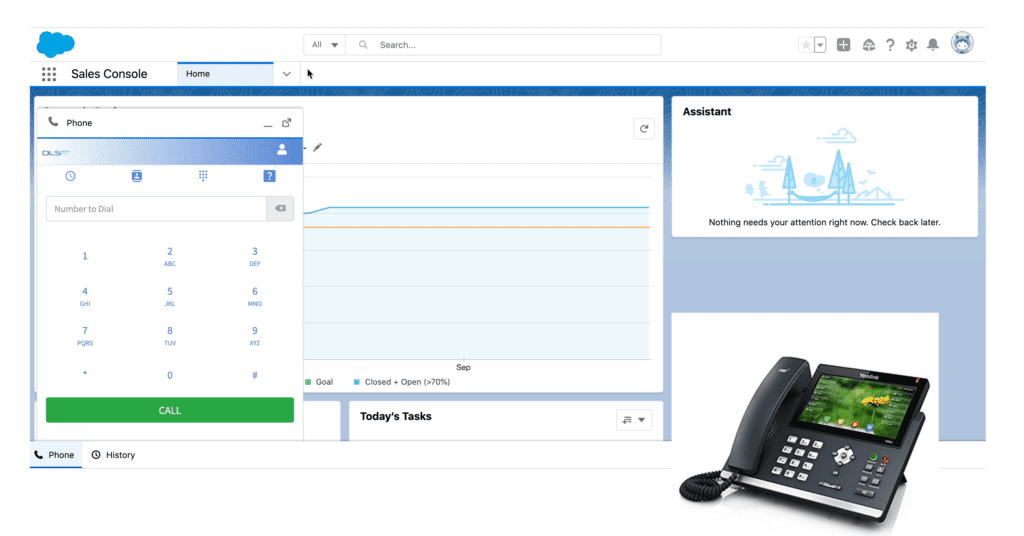 Why link Hosted PBX with Salesforce?
Any information you collect about your business interactions with the client has value. It offers business intelligence you can use in your sales or support efforts. Your goal is to capture as much information about your communications as you can. There should be data about each email, call, SMS, and even fax.
Marketing research shows that email still leads in business communications followed by face-to-face and voice interactions. Having the knowledge of these interactions could mean the difference between closed and lost deals.
How does DLS Hosted PBX integrate with Salesforce?
Integration of the call center phone system with Salesforce must be strategic. The goal is to get your voice system to share its data with the CRM. There are two keys to achieving the best type of integration with Salesforce.
First, there is data about phone activities you want to save in Salesforce:
Caller ID
Call duration
Time of call
Sentiment analysis
Recording of the phone conversation
Disposition of a call
Secondly, what you will do with the collected data. How will you use it? For example, a screen pop-up can bring up customer details. A click-to-dial feature can help make fast and effortless outbound calls.
Salesforce offers computer telephony integration (CTI). When VoIP phone services talk to Salesforce, the benefits add up. By linking DLS Hosted PBX to your Salesforce account, you can access your call activity from the CRM. There is more. You can even playback your recorded calls and pick up voicemail.
Each call received by Salesforce is an "event". Events link to customer records. You will be able to access all the call details we listed above. Oh, just in case you are confused by the technical jargon – "Disposition" is just a fancy word telling you whether someone answered the call or not. Some things should be better explained.
Call data is saved even if you were not at your desk when the call came in. DLS Hosted PBX Salesforce integration module will let you attach your notes to missed call events. You can annotate calls that occurred in the past or take call notes while the call is in progress. When on a live call, you can end it by closing your note or transferring it to someone else.
As with anything, integrating your PBX with the CRM has some limits. You can only automate things to an extent. There is no guarantee that customers will always call you from the same phone number. If that happens you will need to manually associate call records. Still, you shouldn't have to do this too often.
What functionality will DLS Salesforce Module Support?
We are still testing our Salesforce integration module for DLS Hosted PBX. Our goal is to have it ready as a part of the DLS Hosted PBX 5.6 release. Here is a brief list of features that the module will provide:
Screen pop-out displaying customer's record from caller-id
On-screen call control
Notes while on a call with the existing or new client
Adding new client records based on data from a phone call that occurred in the past
Access to call detail record (CDR) of an attached call
Access to call recording and voicemail of the attached call
Click to Dial from the Salesforce
Our roadmap for future releases targets additional features:
Automatic logging of missed calls, including voicemail
Ability to log calls from the DLS Desktop Communicator
Routing calls based on Salesforce objects
Scheduling follow-up calls and callbacks
Sending and receiving SMS and MMS from the Salesforce
Logging SMS messaging activity inside the Salesforce
An affordable alternative to Tenfold and others
Third-party CTI applications from Tenfold, InGenius, RingDNA, and others help integrate with most phone systems. They do it quite well, but the main drawback of these voice connectors is their licensing fee. The high price tag, in part, is due to the added cost of the development aimed to support every popular voice platform. Keeping up with changes to multiple products takes some serious effort. You, however, do not need to fund their noble cause because your business utilizes only one platform. And the people that know this platform best are those who designed it in the first place.
Our goal is to provide:
Maximum reliability, voice quality, and reliable data
Tools for customer service and call center teams
Skill-based call routing to match callers with qualified agents
Reconnection of dropped calls
Ring groups and unlimited queues
APIs that would allow you to integrate your system.
To sum up, integrating your VoIP phone system with CRM software sheds light on the core of your customer relationship. Are you in touch with your customers? More importantly, how do they feel about the services you provide to them? The data you collect tells you when and how often you talk to your clients. It answers a lot of questions. This in turn will help you better read into their needs and pick opportunities.
All other benefits aside, isn't it nice to greet the client by their name and act informed? Doing this puts call center agents in a position to meet and exceed expectations.