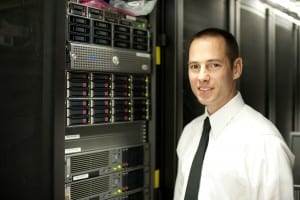 DLS provides advanced enterprise-level VoIP Hosted PBX and Unified Communications services to commercial and government organizations throughout the U.S. DLS's Hosted PBX leverages a unique service delivery model based on a customer-centric dedicated VoIP environment, using an open standard communications protocol. The DLS Hosted PBX architecture is designed to provide a feature rich, reliable and affordable business VoIP service to its users.
DLS leverages over 20 years of experience in Internet service delivery, datacenter operations, fixed wireless broadband infrastructure design & implementation, and network management & security for metropolitan service provider networks, which are supported by thousands of Network Devices (Routers, Switches, Firewalls) manufactured by hardware giants such as Cisco Systems.
The DLS Network Solutions and Services team consists of certified network engineers with decades of experience and expertise in LAN/WAN design, IP telephony, provisioning, implementation and network security.