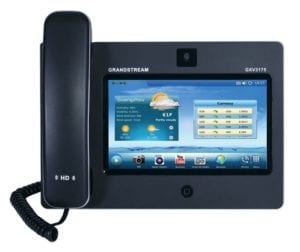 Grandstream's entry into VoIP market resembles that of auto-makers Hyundai and Kia. They had entered VoIP arena with ultra-cheap GXP 2000 SIP phones. Having to deal with their earlier series I can certainly tell you that they were of questionable quality in both: software, hardware and technical support aspects. GXV3175 is a rather ambitious attempt at a multimedia phone that supports video, Wi-Fi, POE (power over Ethernet), high definition voice and allows you to run applications.

Core PBX Phone Functionality
The unit came with a desk stand that limits your ability to set viewing angle of this desktop.
I was pleasantly surprised with both: audio and video quality of the phone. High Definition G.722 codec produces excellent voice clarity. I found speakerphone to be pretty good and a clear improvement from earlier models of the Grandstream Phones. Video calling was also surprisingly good for a $300 phone in my opinion. I tested it with the Polycom VVX1500 and Bria Softphone.
Once I downloaded the address book from my Hosted PBX I found it to be quick and convenient to use. Both: the address book and call history come with a slick search functions making easy to locate contacts.
NAT traversal worked well with our Cisco ASA 5505 firewall. However use of Proxy server made streaming difficult. Proxy settings from a DHCP server would not be accepted and had to be configured manually. To top it off, the phone would bridge your wired and Wi-Fi networks causing undesired problems on both LANs and making it impossible to use POE and Wi-Fi at the same time.
Use of proxy server may be your preferred option if your phone resides on a private network for security reasons. This was never a problem with the desktop handsets that only need to talk to your ip PBX, but if you want to take full advantage of this SIP terminal, you will have to allow it to access the Internet either through NAT or a Proxy server. Expect challenges when configuring GSV 3175 with a proxy server, not only do proxy servers differ,
Overall Handset Experience
7″ Touchscreen IP Multimedia Phone is an attempt to create a high end luxury audio/video terminal. But the experience is crippled by sluggish response time. The bulky operating system of this phone is clearly no match for a puny little processor. The experience is slow and frustrating. Phone responds sluggishly when trying to use many apps and even when dialing a number. On top of it, touch screen is not too precise. As if to compensate for that in-precision, GXV3175 phone comes with stylus. I must have been spoiled by my iPhone which I use without resorting to stylus for too long. Although stylus could have its other useful applications even today (for example using it for digital signature capture on faxed documents), GXV 3175 only uses it only to improve tapping experience. Stylus immediately brought back some nostalgic memories of early 2000s when PDAs could not be used without stylus.
If you use a TV, GXV 3175 can give you a near telepresence experience with it's audio and video RCA outputs.
Apps
Grandstream offers a number of apps that run on this phone: Facebook, Twitter, Youtube, Flickr, Weather, RSS news reader, YouTube, "News Videos", Internet Radio, Stock and Currency Tickers. I think they should have added Netflix for complete viewing experience. Wouldn't most employers appreciate that?
To top this off, GXV 3175 offers common phone apps such as contact lists, call history and text messaging that are pretty handy. As I had mentioned before, slow CPU makes trying to run them a frustrating experience.
GXV 3175 offers a web browser. This browser could probably come in handy on occasion and works fairly well but it is limited to a single Window and will not be used as your primary browser. If you are used to fast switching browser Windows, this browser is not for you. Like early versions of IE or Netscape it cannot spawn tabs or windows.
Picture frame screen saver offers a nice alternative to clogging your desk space with your favorite photos. The phone also offers SD/MMC/SDHC card reader or a USB port which can be used to connect flash drive. For all practical purposes, this is the only use I could find for the two USB ports.
GXV3175 offers Skype, IPVideoTalk and Google Voice applications which I did not test as my primary goal was to test this device for use with our hosted PBX.
Conclusion
If Grandstream utilized a faster CPU, overall experience would have improved. Use of stylus marginally improves tapping experience and brings back good old memories of a decade old Palm PDA. I think having Bluetooth headset would also help but for the price I am satisfied with the 3.5 inch stereo headset port.
Although I found early Grandstream phones to not be the most reliable and phone firmware to have bugs, they do provide releases and bug fixes frequently. Technical support is difficult to get a hold of and understand. In my experience support ticket could only be opened through a web forum and would be automatically closed if no one responded to it.
I would give GXV-3175 three stars out of five possible for an honest attempt to deliver a highly attractive desktop smartphone at a reasonable price. Unfortunately, they ended up having to cut a lot of corners in trying to meet that pricing objective and result still leaves a lot to be desired. The real question now is whether the shortcomings of this phone can be overcome by its software.