The Need for Firewall Configuration in VoIP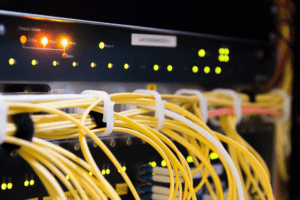 VoIP systems are a crucial investment for all organizations, regardless of their type or size. As these systems rely on the internet, they help streamline communication for organizations in a reliable and cost-effective manner. But, just like traditional telephony, VoIP networks are under threat of various impersonation-based identity and information theft attacks.
The majority of these attacks target VoIP end-points. Everything from Internet protocols, operating systems, software, and management interfaces of VoIP handsets, and softphones are vulnerable to these cyber-threats.
System administrators have to perform a number of security measures to prevent unauthorized access, denial-of-service (DoS), and viruses and worms. While no single security measure can eliminate the vulnerabilities in VoIP deployments, adopting a layered approach can minimize the likelihood of these attacks.
One of these security measures is the configuration of a firewall in your VoIP network. In this article, we discuss how firewall configuration can help make VoIP communication secure.
Firewall for VoIP Security
Enterprises across the world use routers to connect their internal networks with external networks, such as the internet itself. However, using routers to link external networks with internal networks can expose them to several security threats.
Cybercriminals are using impersonation attacks to commit toll fraud. This means hackers can use your VoIP phone systems to make fraudulent long distance calls while you pay for them. In other cases, hackers may exploit security vulnerabilities in your system to capture voice conversations and steal your sensitive information.
At the same time, some hackers flood VoIP networks with SIP call-signaling messages or perform other kinds of DoS attacks to degrade the quality of communication or stop communication entirely.
A firewall is a security mechanism that filters both incoming and outgoing traffic between external and internal networks. It is responsible for monitoring the exchange of information during VoIP communication.
Firewalls prevent external threats from potential attackers by refusing unauthorized connections to the router. Since the majority of cyber attacks target the end-points of a networks, a firewall in front of end-point devices, such as handsets and computers running softphones, can help reduce security threats to a VoIP connection.
Firewalls also protect internal network infrastructure. System administrators can control which programs access the internal network and the Internet. Even if a user or internal application tries to make an unauthorized connection, the firewall notifies the network administrator about the connection attempt.
Firewalls also prevent unwanted network traffic from applications accessing the internal network. By configuring the firewall to ignore unsolicited network traffic, network administrators can also hide devices from port scans.
Furthermore, firewalls minimize the spread of keyloggers and other viruses or malware that have infiltrated your internal infrastructure. Since firewalls also monitor outbound connections, they can stop malware from leaking confidential information.
When configured correctly, firewalls can become a key component of your network security architecture and provide your VoIP network with maximum security, privacy, and protection.
Steps for Firewall Configuration
Usually, firewall configuration in VoIP comprises the following key steps:
If you are using an on-premise VoIP phone system, first you need to configure the ports for both your internal SIP trunk and your VoIP provider.
You then need to configure the ports for remote VoIP apps such as various 3rd party integrated click-to-dial plugins, control panels etc.
Perform the configuration of ports for remote IP Phones.
Attempt port configuration for provisioning & activation as well as web conferencing.
Be sure to disable SIP ALG in your network.
When you are done, test thoroughly each VoIP application through the VoIP firewall that you have configured.
If your VoIP firewall is working as expected, implement it on your network.
The configuration of your VoIP firewall is a highly technical process. Your firewall has to process RTP media streams without causing latency, as well as detect, and respond to SIP signaling messages. This is why you need an experienced VoIP engineer and a service provider to ensure that your communications are deployed securely.
DLS Internet Services offers comprehensive VoIP solutions for businesses of all sizes and across many industries. Besides providing you with the capable hosted PBX, virtual PBX, and reliable SIP trunking services, we also offer technology support to ensure that your communication network operates at its maximum capacity.
For further information on the company's services, visit our website at https://www.dls.net/.