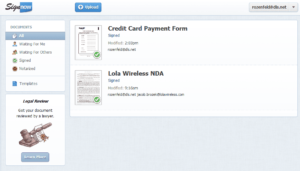 Like most people I hate to receive a faxed document attached to an email only to print it, sign it and then fax it back. Or worse yet: print, sign, scan and then finally e-fax or e-mail. It just seems like too much work for something that should be done in fewer steps. Fortunately, there are few ways to go completely paperless and save time, toner and paper without paying a dime.
In this article I am going to describe how use free tool provided by our new partner SignNow to apply legally binding digital signature to faxes received through your DLS Hosted PBX fax2email service or, for that matter, any unprotected PDF file. Whether you must fax or email the signed document, you may be surprised to learn how easy and simple it is to take your printer out of equation when it comes to document signing and even notarization.
No Specialized Equipment Required
We all know what digital signature pads and stylus pens look like – they have become commonplace with stores, banks and your friendly UPS or Fedex delivery guy. The good news is: we are not going to need any of this specialized equipment, your laptop touchpad will do just fine. Even if you don't have one, creating your legally binding signature will take only seconds.
Signing E-Faxes
DLS Hosted PBX Fax-to-Email service directs all the faxes to your email. Faxes are attached to email messages as image files in Adobe PDF format.
You may be accessing your email from a variety of devices be they personal computers, smartphones or tablets. Each of these devices can be used to add signatures to PDF documents with SignNow. All you need to do is create a free account, upload your document and follow a set of straightforward, easy-to-understand directions. SignNow offers free applications for iPhone OS and Android Smartphone platforms. Your phone's touch screen can be used to quickly capture your signature. Alternatively, you can use desktop website www.SignNow.com to produce a signature without capturing it.
Upload and open your PDF document
Draw, type or take a picture and upload your signature.
Apply signature and/or add text to the document if necessary.
Save and Download your signed document.
Invite other signers to sign the document.
Optionally Notarize the document or forward it for legal review.
I love this service because it really helps you take full advantage of the DLS Hosted PBX e-fax service. Try it !