New Release Offers Slack™-like Rocket.Chat Collaboration with a New Integrated DLS Meeting Room Web Conferencing Experience, New Mobile Softphone Application, Updated Web Softphone, Improved Operator Panels, and New Handset Firmware

DLS Hosted PBX 5.5, the latest release of DLS's essential communications toolkit for business, is now available as a free software update. With the DLS Hosted PBX 5.5, customers are gaining access to the Rocket.Chat, an advanced open-source team collaboration platform that enjoys one of the most active following on the GitHub. Adding to the productive collaboration experience is an integrated DLS Meeting Room web collaboration service. It is linked directly to the Rocket.Chat to deliver rich online video conferencing experience. Redesigned Web Softphone and new Cloud Softphone for Android™ and iOS™ simplify remote work and participation. Other features include expanded functionality of the operator panels, new handset firmware, and 14 newly supported endpoints from Polycom™ and Yealink™.
Rocket.Chat for Teams
Rocket.Chat is a highly expandable and reliable enterprise collaboration platform available on desktop and mobile devices. This free, open-source service can boost your company productivity by bringing messages, online meetings, file sharing, and all team communications in one place. Rocket.Chat ensures data privacy for companies with GDPR, HIPAA, and CCPA compliance requirements. Over 10M users trust Rocket.Chat to improve their business productivity with team collaboration.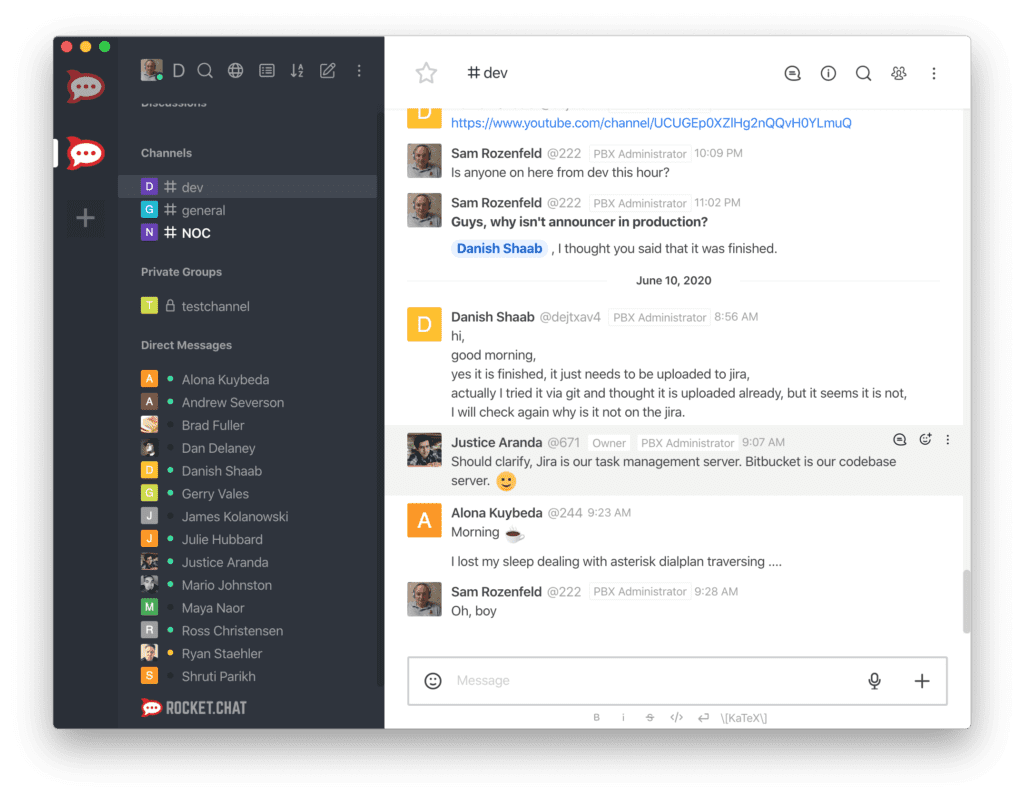 Web Softphone: Calls from Your Browser
DLS's web softphone introduces entirely new redesigned interface and added functionality. Web Softphone improves overall user experience making it easy to access PBX remotely using a Google Chrome™ browser.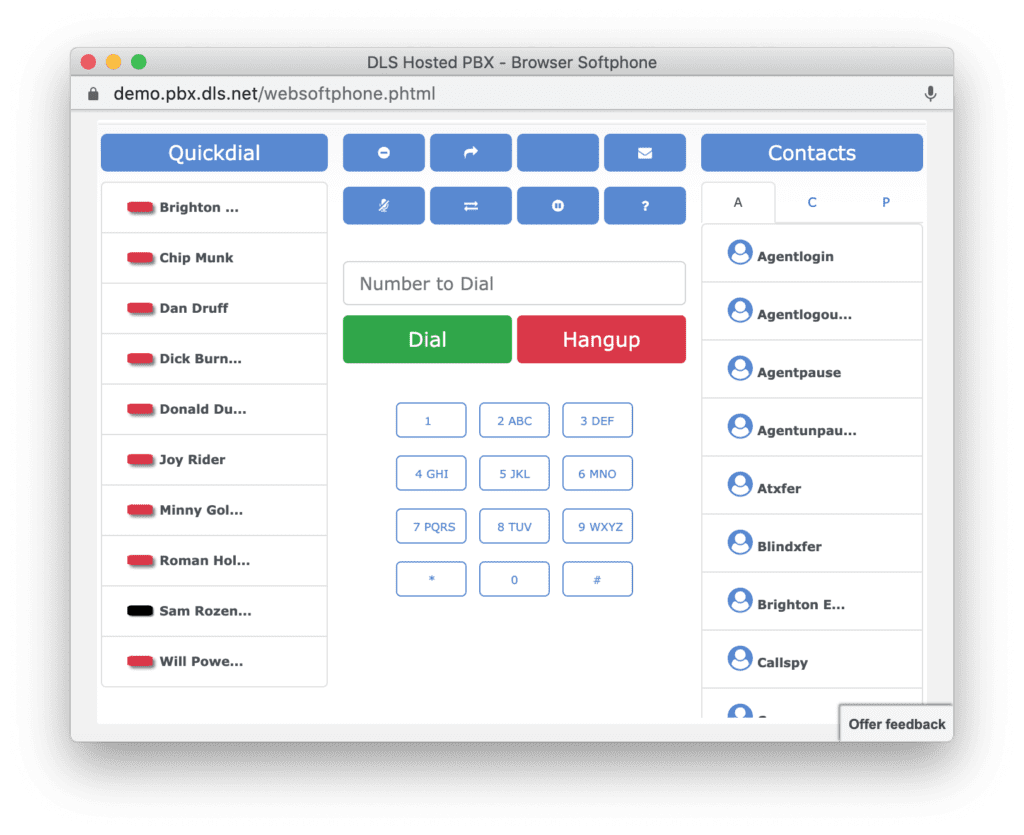 Cloud Softphone: 5-second Provisioning
Cloud Softphone is an easy-to-provision high-quality softphone for Android™ and iOS™ mobile devices. It offers voice and video calling, BLF presence, SMS and MMS messaging, access to personal and PBX contacts. A 5-second provisioning process via a QR code will make Cloud Softphone a new favorite mobile softphone platform for DLS Hosted PBX users.
Operator Panels: Better Search and Transfer
The attended transfer option is a welcome new improvement of the operator panels. Also, another new useful feature is the added ability to transfer calls within and away from the PBX using drag and drop feature. Searching through long contact lists is greatly simplified with the addition of sticky filters. These new functions were implemented based on feedback from DLS customers.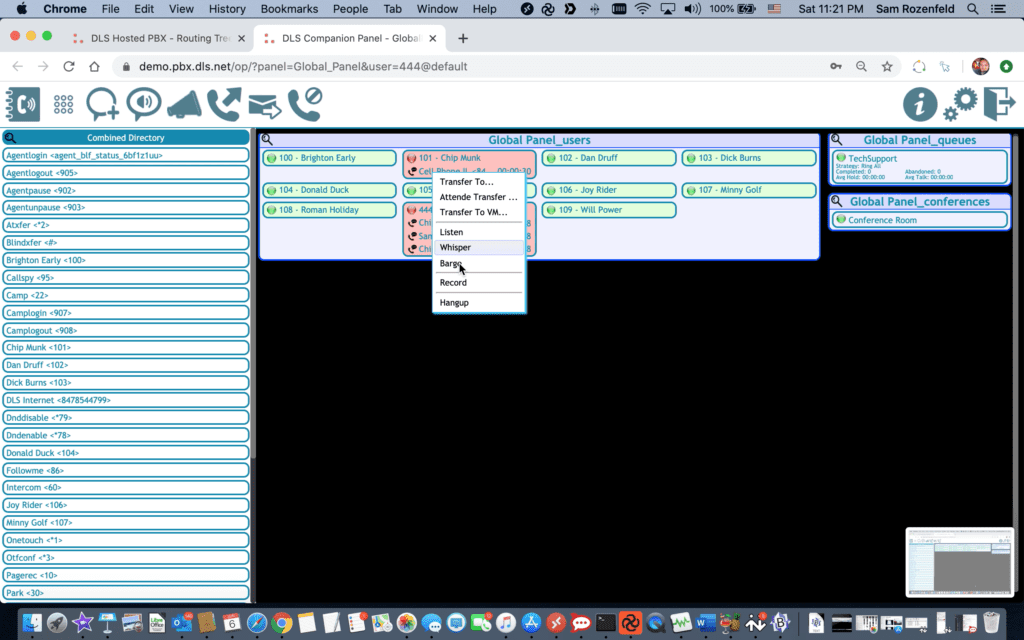 Additional Features
In the new release, all new automatically provisioned endpoints will default to the use of SRTP/TLS and high definition codec to achieve best call quality, security, and privacy.
New Polycom and Yealink phones expand the choice of handsets available with the DLS Hosted PBX.
Microsoft Outlook Plugin for DLS Meeting Room is now available to simplify the scheduling of online web meetings.
Availability
DLS Hosted PBX will become available on Saturday, June 13th, 2020. It is a free software upgrade for the customers of DLS. Some features may require activation.  To view a complete DLS Hosted PBX upgrade video presentation, please, visit our YouTube Channel. DLS Hosted PBX Release Notes are available at https://www.dls.net/dls-hosted-pbx-release-notes/.