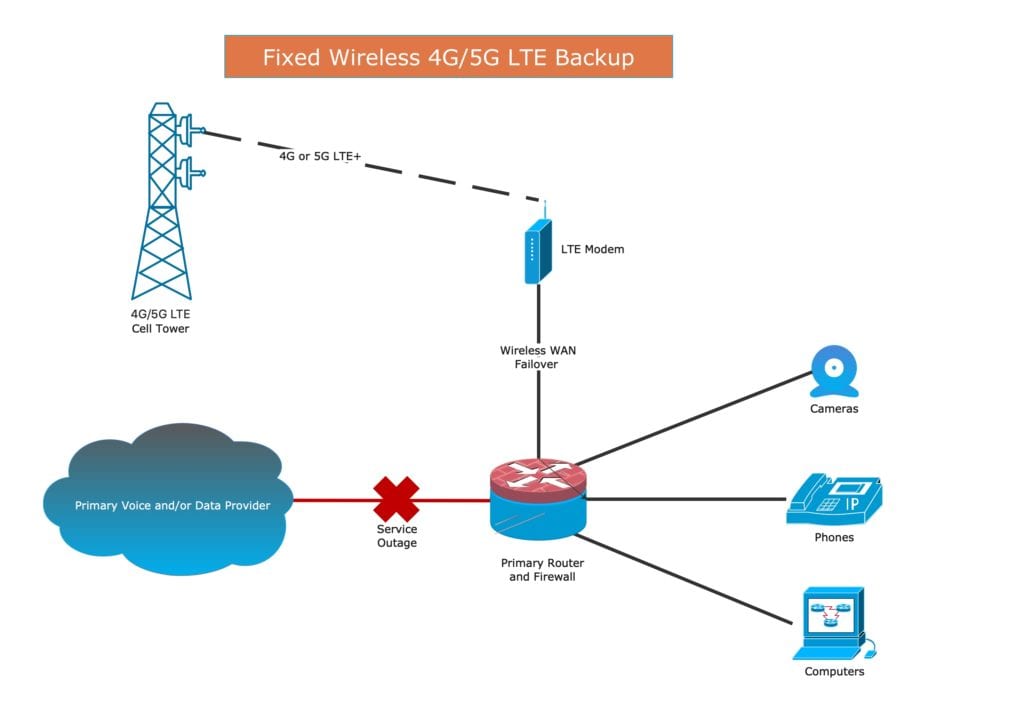 Have you ever experienced Internet failure? A bad day, right?
It's even worse when your business has a premise-based VoIP system and your customers can't reach you.
These days almost everything relies on the Internet, be it a home-run business, an office, a factory, a restaurant, or a storefront. More than 50% of the population worldwide is using the Internet. Thus, a stable internet connection is as crucial for everyday business operations as water or electricity.
However, sometimes Internet connections can be disrupted by natural disasters, construction incidents, negligence, or service provider outages.
Naturally, your clients won't sit around for long while you sort your issues. That's why you might need to consider a backup Internet connection!
Backup Internet Options
Finding an excellent backup Internet connection may depend on where you are. Speed and cost are obvious factors when you choose any connection. Not every business has access to a redundant Internet connection from an alternate provider that would match its primary link price and speed. Sometimes you will have to settle for an Internet service that will keep only your essential services up and running. Those could be your phones and back-office systems.
One of the less known backup options is a fixed wireless Internet service. Some wireless Internet service providers (WISPs) offer nationwide coverage using 4G/5G cellular networks and licensed spectrum. Smaller, regional providers typically operate in the unlicensed spectrum, offering less reliable but often more affordable connections.
Fixed wireless broadband can be an ideal backup that's low cost and comes in different service plans. It varies in speed, budget, and also the technology used. With the advent of LTE+ and 5G technologies, you can easily achieve sustained speeds of over 100Mbps with latency in the range of 50ms which is more than suitable for your VoIP connections.
For businesses, speed is as important as the reliability of the connection. So be sure to pick a service that best suits your business and its operations.
Pros and Cons of Wireless Internet
Like any other medium, fixed wireless Internet access has its strong and weak points. Among its strong points are nationwide availability, low cost, speed of deployment. With a 4G/5G LTE-based cellular connection, you can be up and running the day you called to activate your service.
Of course, there are some drawbacks too. For local providers operating in an unlicensed frequency band, it could mean RF interference from competitors, causing inconsistent spikes in latency and speed of the Internet connection at a time of high demand.
Cellular networks are usually immune to this kind of interference, but cellular plans cost more, and their pricing plans often have progressive bandwidth caps. Once that cap is exceeded, the provider could either lower the speed of the Internet connection or start charging for the bandwidth used.
Choosing a Type of Backup
Not every business needs a backup connection. Some are operating most of their IT services in the cloud and can access them from any location. For others, the cost of having a reliable backup out weights the damage resulting from the outage.
Obviously, if your business can afford it, there is no harm in having a backup Internet connection. Accidents and unavoidable circumstances will never knock before they are about to happen. Technology fails, natural disasters occur, and things happen. And, whenever they do, you better have a plan B.
There are few backup options out there.
Hot-Standby Connection
A hot-standby provider uplink runs simultaneously to the primary connection and synchronizes with it in real-time. Its configurations are identical with the primary connection and take over immediately when the primary connection fails. Such connections can be used in a load-balancing fashion where both links are up concurrently via a 3rd party link aggregation technology such as SD-WAN. The benefit of having a hot-standby connection is obvious: there is no downtime when you lose your primary link, as failover is nearly instantaneous. The drawback, on the other hand, is that it can get expensive.
Cold-Standby Connection
This type of connection is not active until the need arises. End-user manually activates it. One such example is a cold-standby service offered by DLS.
Final Thoughts
4G/5G LTE, LTE+ based cold-standby link could become a very cheap business continuity insurance for small businesses. They sit in the corner, costing a nominal fee waiting to get activated when your primary connection fails.
Unfortunately, the recent experience shows that global climate change and other events may wreak chaos to business communications infrastructure. Having an affordable plan B isn't a bad idea. Shop around.