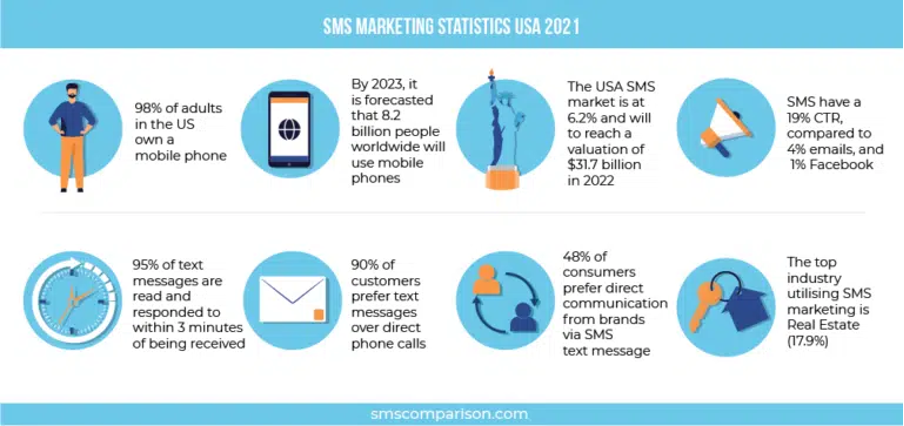 SMS remains one of the most effective tools for marketing and information dissemination. However, with mobile penetration continuing to grow, users are increasingly exposed to spam SMS campaigns and the abuse of this powerful medium. The recent SMS regulation "initiative" by the major US mobile operators, the (SMS) Campaign Registry, intends to change this.
As of January 20th, 2022, U.S. mobile telecom operators have implemented new rules effectively governing all SMS between 10-digit phone numbers (P2P long codes) between mobile and non-mobile (i.e., business VoIP) operators. All such messages will be considered by mobile operators as "message campaigns" regardless of whether they are Application-to-Person (A2P) or Person-to-Person (P2P) communications. As with the STIR/SHAKEN initiative to combat robocaller spam, this move is hypothetically intended as a step to combat the issue of unsolicited and spam SMS messages.
Since 2003 telecom industry has designated five to six-digit shortcodes as A2P (application to person) numbers used for marketing, public safety, and other automated campaigns. Until now, SMS P2P long codes utilized by businesses were only ever meant for person-to-person communications, had limited volume throughput, and lacked security requirements.
Mobile carriers have always regarded P2P as an unsanctioned SMS channel for business communication, prone to banning and throttling. Additionally, P2P long codes, due to low barriers to entry, allowed unscrupulous actors to abuse SMS for spamming purposes.
Big Changes Coming to B2B SMS Messaging
To reduce the volume of spam and unwanted communications, mobile U.S. telecom carriers such as AT&T, T-Mobile, U.S. Cellular, and Verizon require that all A2P messaging utilize 10DLC-approved numbers. A 10DLC (or 10 Digit Long Code) is the new standard in North American application-to-person (A2P) business messaging. 10DLC numbers are long codes that mobile network providers have sanctioned for A2P SMS messaging and can handle large quantities of text messages at lower prices than dedicated Short Codes.
Businesses in the United States that wish to continue utilizing SMS to communicate with their clients must register their campaigns with the Campaign Registry (TCR).
What is Campaign Registry?
The Campaign Registry, or TCR, is a system supposedly designed to combat spam by regulating the sending of SMS messages. Intended as a "reputation authority" for commercial messaging, it governs the use of standard ten-digit phone numbers (10DLC). The TCR is where Campaign Service Providers (just a fancy name for non-mobile carriers and service providers) must register their 10DLC message campaigns. Failing to do so will bring message flagging, blocking, or financial penalties.
The registry is presented as a necessary evil to ensure that only authorized firms send messages and help carriers identify spam. The TCR charges the fees for registration and monthly usage to the Campaign Service Provider based on their customers' text messaging volume and the Use Cases. These use cases include marketing, customer service, 2FA, transactional messaging, account notifications, delivery notifications, fraud alert messages, polling and voting, and public service announcements.
Treading the Line with TCR and New Regulations
On the one hand, the introduction of 10DLC and Campaign registry does present clear advantages like higher SMS volumes, lower costs (than Shortcodes), and better throughput and deliverability. If appropriately implemented, it will probably curtail some spam while fostering more positive engagement, both for brands and their customers.
On the other hand, arguments against it can also be made, particularly from the perspective of smaller VoIP businesses. Many definitions and terminology cause a lot of confusion. For example, the terms "Brand" and "Campaign" are not universally applicable. A brand will simply be a business trying to communicate with its employees in most cases. This case doesn't fall under the definition of the campaign either. For instance, a trucking company dispatcher sending SMS messages to truckers with their loads wouldn't fall under the definition of a campaign. But now, with the new mandate, the company office will have to define it as a campaign and pay a monthly fee to do what it was already doing.
TCR may seem like a step backward to them and numerous other such cases. SMS text messages were already a proven, convenient, low-cost, and high-volume communication channel. The introduction of Campaign Registry mandates may make this channel less attractive as their use cases may not fit the application and its costs. Consequently, SMS might finally lose its appeal as a medium that is not guaranteed to deliver, and users may shift to other messaging applications. With SMS already considered an outdated system that allows only 140 characters per message and MMS limited to 2 M.B., which can't send anything meaningful today, this shift is even more probable. With wireless carriers restricting access to their platforms, sticking to this channel is no longer advantageous.
It adds a barrier for the communications service providers as well. These companies must ensure that their clients register their brands and campaigns. They will also need to facilitate brand approval by an authority that does not necessarily understand their business model and tries to fit it into one of its use cases.
These scenarios leave small businesses uncertain at best about whether their messages will even reach their intended recipients. The requirement of "Brands" and "Campaigns" may not be satisfied by businesses for various unavoidable and unmitigated operational reasons. Wireless carriers will simply not deliver the messages if a message falls outside of the "trust score" appropriate for its stated use case.
Other than businesses, there are political, nonprofit, advocacy, progressive groups, and labor unions concerned this move might hinder their ability to engage with the public.
Finally, there is the issue of spam itself. There is no mechanism in the Campaign Registry to prevent spammers from registering as one campaign and sending as another. There isn't any check built into the new system for pre-emptive screening and blocking such bad actors who will most likely find ways around such loopholes. Post-effect penalties won't help the issue much, so the whole exercise may just end up adding one more step to a problem that the system is attempting to fix.
A Way Forward
TCR is intended as an essential step forward in creating a more trusted ecosystem for text messaging and helps reduce spam. At the same time, ensuring businesses can continue to communicate with their customers more transparently and effectively. However, some critics argue that the registry is an unnecessary burden on honest and small businesses.
The point is that to combat spam, 90% of regular low-volume businesses will have to go through a significant bureaucratic barrier to do what they were already doing and pay more for the same service they have been using.
The trust scores that the Campaign Registry assigns to registered groups may also create an additional obstacle for new businesses trying to enter the market, not to mention the costs they absorb or need to pass onto their customers. Long verification periods, paid vetting, and the number of resources required to comply with the TCR's standards can also be prohibitive. Big telecom companies are playing the regulatory role of the Campaign Registry, claiming that this is the best way to centralize the existing SMS ecosystem. Others feel that TCR is a way to avoid developing a genuinely decentralized and innovative communication platform. No matter which way you look at it, TCR is likely to add another barrier to the growth of smaller VoIP businesses in the face of prominent players and telecoms.
The near future will tell how the Campaign Registry will shape the text messaging landscape. The TCR is certainly not a panacea, and its full implications are unclear given the early days, but if implemented well, it could form a vital part of a new ecosystem for old messaging. But from the position of small businesses, communication service providers, and other such cases, the cost-benefit analysis of this new system will make it seem bureaucracy at its best.
Big telecom companies playing the regulatory role with the Campaign Registry can be seen as merely a way to centralize the existing SMS ecosystem when the focus should have been towards developing a genuinely decentralized and innovative communication platform.
TCR Impact on DLS Customers Using SMS
DLS is on board with the adoption of the campaign registry. As December, 2021 we are still ironing out all the details and connecting our software to the campaign registry API. Each customer using SMS service will be required to register a brand and an associated campaign even if they use messaging for customer service or internal company communications. Please, stay tuned to our newsroom or subscribe to our YouTube channel for up to date information regarding changes to the way SMS messages are going to be used.