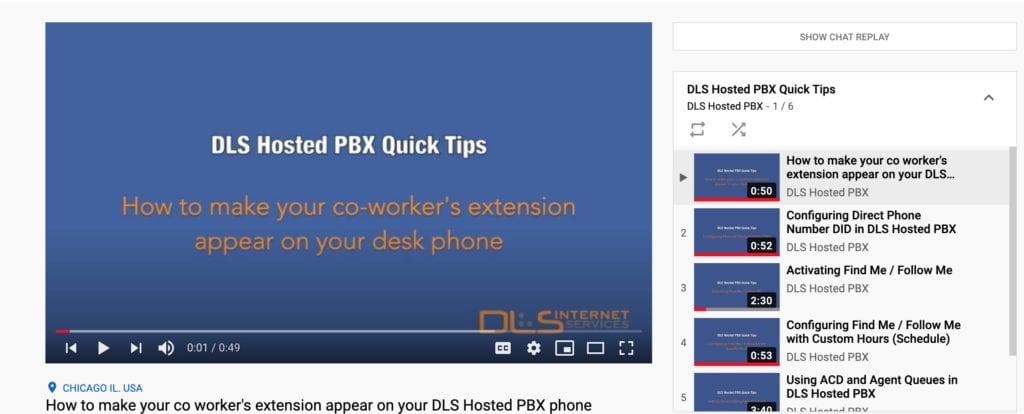 Dear Valued Customer,
I am happy to announce that we recently started our own DLS Hosted PBX YouTube channel. The goal of this channel is to begin sharing technical insights and knowledge not only on our blog but also in video format. Some of the real-life how-to guides are more suitable for video than written form. And who is better to address them than our own support techs?
On our channel, we are going to release quick tips for PBX admins and users on how to take full advantage of many Unified Communications features, such as SMS, team chat, video calling, web meetings, etc. We promise not to flood you with the marketing information and will be adding a new video quick tip just once per week. A professional marketing team does not make these video recordings. They are made by our support technicians who are intimately familiar with our product and the most common customer's needs.
Over the past few weeks, we had posted the following videos to our YouTube channel quick tips playlist:
How to make your co-worker's extension appear on your DLS Hosted PBX phone
Configuring Direct Phone Number DID in DLS Hosted PBX
Activating Find Me / Follow Me
Configuring Find Me / Follow Me with Custom Hours (Schedule)
Using ACD and Agent Queues in DLS Hosted PBX
Enabling and Configuring SMS with your Business Phone Number and Extension
We will rely on feedback to improve the quality of the videos and quick tips, and we also would like to choose topics for future videos according to feedback.