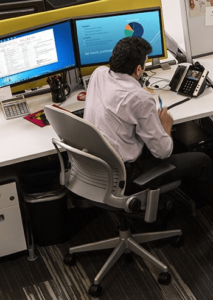 With the rise of new media communications, such as Skype, WhatsApp, and myriad other applications, it makes sense to wonder if video calling is worthwhile for your business.
You can run a business using traditional phones. Most of the time, that's the way it goes. In the 21st century, however, the way we communicate has evolved. Making video calls is an effective and efficient internal communication method for some businesses. For some organizations, it's unthinkable to go without video calling now. These include news outlets, many international institutions, and educational facilities.
That said, despite advances in the quality of the hardware and new affordable video phones, the adoption rate continues to remain low. In a modern business setting, video calls have a number of use cases. Here are just some of them:
Recruitment
In the internet age, it makes sense to use relevant, modern communication programs when recruiting a modern workforce. A computer-savvy generation is at ease with making and accepting video calls so it makes sense to use this option to save time when interviewing candidates. Video calls are especially invaluable when recruiting, both, nationally or overseas.
Conferences
Video calls can be very useful when applied to the conference room setting. It allows for audio and visual participation in a conference taking place far away. This can save a lot of money that may otherwise be spent on travel and hotels.
Education
Another important aspect of video calls is in the educational field. Virtual classrooms are a new and exciting field. They help employees and staffs participate in training courses.
Face-to-face video calling
Face-to-face communication is invaluable for developing and maintaining trust, whether between collaborators or between staff and customer/client. Some people today are getting more comfortable with the cameras than they have been previously.
International clientele
If your company does business abroad, video communications are a naturally cost-effective way to communicate and develop your connections. Of course, it makes sense to jump on a video or conference call with a client in Hong Kong than to go there by plane. And video calls placed over a free public network like WhatsApp or Telegram will cost you a lot less than a conventional international phone call. Being able to look a person in the eye helps you make a good impression. They say a picture is worth a thousand words; it's true that people tend to feel more reassured if they can put a face to a voice.
There are many reasons to add video calling capability to your VoIP communication system. Face-to-face contacts are only going to grow in popularity.
Video calls are not always going to be a preferred communication option. It certainly takes away the privacy of an audio call. But it has its uses and it improves interaction between employees in different office locations or those working from home. Video phones have become very inexpensive these days. Modular VoIP handsets make it possible to purchase equipment today and add video capability to it when the time is right. You'll need some basic VoIP handset such as Polycom's VVX 500 and at least 80Kbps internet connection. If you have opted for a VOIP provider, they will set this up for you with no fuss.
Keep your communication options open. Explore the possibilities and benefits that video calling has to offer. For more information on this and other VOIP features, please call us at DLS Internet Service at 800-323-2099.