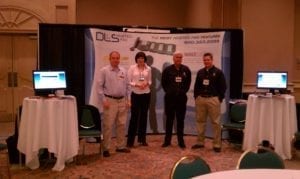 When appearing at professional industry show or event with a service such as DLS Hosted PBX, I always try to put it in the context of this industry's business application. I'll admit, this isn't always easy. That part aside, however, there were a couple of things that I found to be worthy of exploring.
First, I thought it is really interested to see how our system can really affect and interact with an EMR (Electronic Medical Records) system. It's an exciting concept that I think is worth exploring a lot more. The most obvious feature, I think, would be the use of predictive dialer to automatically remind patients about their appointments or availability of their lab results. If we get a bit more advanced, I can see how it can also be possible to bring patient's record on the screen when he or she calls. This information can be displayed by either EMR applications or on an IP phone.
The concept isn't new as I found references to a few high end EMR systems integrating with both traditional and VoIP PBX. But none so far seem to be integrated with the service and a few that actually do are priced outside the range of the most 3-4 doctors offices.
So with this in mind I went directly across the hall to another exhibitor: Platinum EMR (www.platinumemr.com). A brief conversation with the owner quickly revealed mutual interest in working together. It turns out that they have also been thinking about VoIP enabling their EMR system. Since the IAO annual meeting on February 3rd and 4th – we had two conversations began planing a meeting between our developers.