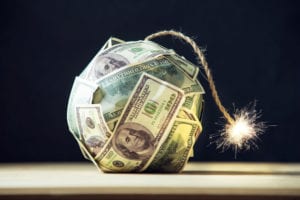 Chicago's 9% "Cloud Tax" became effective July 1 for all city of Chicago consumers, including businesses
If you're like most people, you probably look forward to the July 4th holiday to celebrate and reconnect with family, friends, and close business associates. Maybe you had planned on enjoying the holiday with a streaming movie service. Maybe you wanted to pick up your VoIP phone to call on clients with good wishes. Well, then Chicago's latest move is sure to rain on your parade this holiday weekend.
Put Down That Glass
Buying virtual products or services via the web now comes with an extra financial burden for Chicagoans. All because of a new "Cloud Tax" was voted into existence by local tax authorities in the city's Finance Department. Evidently, they couldn't resist the opportunity to reap another $12 million in new revenue. The new tax took effect on July 1. It extends existing tax rules by adding a new tax on "electronically delivered amusements" and "non-possessory computer leases". The added 9% tax on entertainment services like streaming movies and music from Spotify, Netflix, Amazon, and others also affects businesses that use services based on cloud technology. Services such as SaaS (software-as-a-service), PaaS (platform-as-a-service) and IaaS (infrastructure-as-a-service), also face the same 9% tax increase.
Welcome to the New Reality
VoIP, and Cloud Services providers in Chicago, like DLS Internet, must now collect the new tax on behalf of tax authorities. Our Chicago customers are really going to feel the sting of the new tax law. They already carry a burden of a 27% telecom tax rate before the new cloud tax rules became effective. So much for optimized efficiency to support business growth.
How does the prospect of paying a 36% tax in the cloud make you feel this 4th of July holiday? Probably not very patriotic. I wouldn't even be surprised if you now have a few fireworks of your own, going off in your head, as you're reading this. Chicago's new cloud tax is just another example of how the freedom that the Internet once offered, continues to slip away, and how the consumer continues to pay the price.
As local authorities in the city overstep regulatory policy to increase tax revenues, Chicago residents and businesses alike have a lot less to celebrate, this 4th of July. It is hardly a move that supports business growth in the city. On the contrary, it serves as an incentive to stall innovation and growth for the local economy.