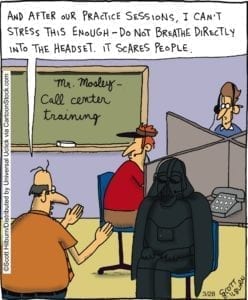 Some industry participants argued that modern telephony technologies have made communications hardware obsolete. These individuals believe that due to big jumps in hosted services, and due to the increase in telephony software options, the
In fact, incoming data indicates the demand for telephony hardware may be growing in line with increasing demand for telephony software. average business will jettison their telephony hardware and opt for entirely soft and remote systems. We've argued this isn't the case for some time now, and an increasing amount of data and recent industry projections seem to prove us right.
How could this be? What's driving this trend? Unified communications.
Unified Communications Drive Explosive Headset Growth
One recent set of data comes from a survey produced by Frost & Sullivan. The company recently made the prediction headset unit sales will increase from now through 2019 with a 14% compound annual growth rate. Furthermore, in their report Frost & Sullivan also predicted revenue in the headset market will increase by 12.5% in the same time period.
Specifically Frost & Sullivan predict an increase in wireless headsets over the coming years. Wireless headsets now account for about 27% of the worldwide office and contact center headset market, and Frost & Sullivan predicts wireless headsets will account for 49% of that market by 2019.
This sort of growth would be impressive in any market, but it's even more impressive for a market (telephony hardware) that's some people believe is obsolete.
Clearly the telephony hardware market is still vibrant, viable and growing, and Frost & Sullivan representative Elka Popova explained the basis behind her company's predictions when she stated:
"The emergence of unified communications, more specifically soft clients, is driving demand for headsets."
Detractors argue the shift towards telephony soft systems will kill the demand for telephony hardware. This recent report suggests the opposite- the increased adoption of soft systems seems to be driving increased demand for telephony hardware.
We aren't seeing an "either/or" situation here where companies need to choose between soft or hard systems. We're seeing a situation where companies utilize soft and hard telephony systems. In our increasingly expansive and interconnected unified communications landscape companies want as big and as accessible a web of communication options and systems as possible, and those systems will always require and utilize both software and hardware components.
Untapped Markets
Unsurprisingly Frost & Sullivan locate this growth in demand for headsets within the enterprise and contact center markets. Businesses are increasingly buying headsets for their employees to use, often in combination with unified communications systems in general, and softphone programs specifically. Frost & Sullivan's representative stated that the "enterprise space presents the largest market opportunity for headsets…" due to the fact "the enterprise space remains untapped."
In fact, according to Frost & Sullivan headsets have only penetrated 10% of the enterprise space. What we see here is swiftly increasing demand for headset technologies within a massive, incredibly profitable enterprise market that's only now beginning to really see the value in this hardware due to their adoption of unified communication services.
The demand for headset hardware is already growing, and as we see more and more enterprise-level clients adopting Unified Communications systems we can only expect to see more and more enterprise-level clients purchasing headsets. The two go hand-in-hand, and considering the fact everyone expects massive sustained growth in the UC market, we can rightly expect parallel growth in the telephony hardware markets.
Telephony hardware isn't a relic of a previous era of communications tech. Telephony hardware, including wireless headsets, remain an essential cornerstone of the emerging UC-powered communications landscape within enterprise-level clients.
This isn't the end of telephony hardware- in many ways it's just the beginning.