What is the difference between different Internet Access options?
T-1 line

DLS Broadband

DLS Switched Ethernet

Pros
Cons
Pros
Cons
Pros
Cons

Reliable

Symmetrical Bandwidth

Good for up to 30 simultaneous HD calls

Available everywhere

Low 1.5Mbps bandwidth

Not enough bandwidth for Data or Video calls

Old TDMA technology being phased out by carriers

No longer available to order through standard channels but may be ordered under special conditions

Low cost

High downstream speed up to 45Mbps

Suitable for short term backup

Suitable for data-only connection

Less Reliable than T-1 or Fiber-Optic Ethernet

Low upstream speed

May not be available in all areas – requires address qualification

Requires minimum of 3 year contract

High Reliability

High Speeds up to 1000 Mbps

Latest Technology

Higher Cost

May take up to 3 Months to Install

Requires minimum of 3 year contract
What is the difference between VoIP and traditional phone service?
| | Traditional Phone Service | VoIP Phone Service |
| --- | --- | --- |
| Voice Quality | Excellent | Good to excellent, varies; with provider, internet connection, and equipment. Many business VoIP providers will provide a guaranteed QOS for excellent voice quality. |
| # of Dropped Calls | Rare | Isolated to rare; some loss of data if heavy data traffic, unless provider guarantees service. |
| Coverage | Worldwide | Worldwide |
| Bandwith usage | Inefficient | Very efficient |
| Long Distance Rates | Can vary; can be costly | Relatively inexpensive; free if within network |
| Maintenance Costs | High, due to aging infrastructure, high cost of copper, and more costs. | Low, due to relatively light infrastructure requirements. |
How long does the service take to set up?
Typically, the amount of time needed to get your hosted PBX running depends on your current bandwidth, whether LNP is required (from another service provider), whether cabling upgrades are required, and a number of other factors. However, you can generally expect that the service, from the time the order is submitted to the time you have dial tone and training, to be between one to four weeks to complete.
Can I port my phone numbers from current carrier?
Yes, you can. LNP (Local Number Portability) is available in most areas. If the service is moving from a competitive carrier, then your numbers will be migrated to our Hosted PBX network. The phone number portability will not result in any downtime or interruption to your phone service.
Are there any prerequisites to obtaining service?
DLS sales representative and pre-sales engineer can help your company perform a free qualification/provisioning evaluation to determine what network and/or equipment changes (if any) will be needed, including selecting the most appropriate service plan for your business. In many cases when switching from another VoIP service provider your handsets will work with the DLS Hosted PBX without any alterations.
Is DLS Hosted PBX a good fit for my company?
If your company relies heavily on communications, DLS Hosted PBX could help you significantly improve your telecommunications efficiency and your bottom line. In addition, if your company has telecommuters and offices functioning in the same communications environment as headquarters, then your company is a good fit for hosted PBX. Companies operating in industries such as financial services, legal services, travel agencies, real estate offices, government, and higher-education organizations can also benefit from using DLS Hosted PBX.
Can VoIP Service Work Through Firewall?
There are multiple approaches for delivering IP telephony while keeping a firewall intact. Depending on the network configuration requirements DLS service can be configured to traverse Network Address Translation or bypass it altogether. The bypass solution operates outside of firewall while remaining inaccessible to any address on the public Internet and therefore is not subjected to NAT traversal limitation of SIP protocol.
Does Internet utilization affect voice quality?
So what happens to voice quality when several users are making calls, and several others are making large data transfers?
It may. We will determine the amount of bandwidth required for voice and/or video traffic based on the maximum number of concurrent calls estimated by you. We will also evaluate your LAN. The Hosted PBX system will be provisioned and installed to ensure the best voice quality in accordance with the number of users and data being transmitted won't have an effect on voice quality. DLS implements Quality of Service (QoS) using Cisco routers to prioritize voice packets over data.
What is BANDWIDTH and how does it affect VoIP?
You may have heard this before: "Voice Over IP (VOIP) needs a certain amount of bandwidth to be usable."
In other words, VOIP needs bandwidth so that voice conversations are intelligible by both parties. Your broadband Internet connection (provided through a Fiber, Cable, T-1 or DSL service) provides that bandwidth.
Basically, bandwidth is the amount of digital data that can be transmitted in a certain time period. Internet connections are usually measured in KiloBits Per Second (kbps). Your connection may be rated at 512/128 kbps. This means that the upload stream (leaving your computer) has a maximum bandwidth of 128 kbps and download stream (coming to your computer) has a maximum bandwidth of 512 kbps.
For example, a web page that is 3000 bytes can theoretically viewed in 0.05 seconds – almost instantaneously – at a download speed of 512 kbps. However, in the real world web pages don't usually load that fast. That's because data is held up, or delayed by various factors. Latency is the delay caused by the physical limitations of each piece of hardware the data is passed through. Delays are also caused by pathway congestion, error checking, transmission negotiations and extra data sent with the web page to identify its type, origin and destination.
What this means for VOIP is that enough bandwidth must be supplied to allow for the transmission of the actual voice data in real time as well as extra bandwidth for the overhead required for any data transmission.
So how much bandwidth does voice data use up? Well that depends on the codec (enCOder/DECoder) used to compress the data. Anywhere from 16 to 64 kbps is normal. Add onto that the extra overhead of about 10 to 24 kbps. In total, VOIP uses 26 to 88 kbps per call. As a general rule, assume that you will need at least 88 kbps per concurrent call to use VoIP reliably. Refer to DLS Analysis Tool to calculate your actual bandwidth requirements.
What happens if my DLS Hosted PBX service fails?
DLS saves Hosted PBX configuration changes nightly. In addition to that, we operate multiple cold spare systems to which your service configuration can be restored within minutes. Extensive service monitoring ensures that any failure of the service immediately becomes known to DLS network operations center (NOC) when they do occur. DLS also relies on two different datacenters in which your Hosted PBX systems can be housed neither of which are located in areas of seismological activity or hurricanes.
Failures in accessing your DLS Hosted PBX service typically occur in the "last mile", with your Internet connection. DLS can assist you in engineering redundant Internet connections. In the event of such failure however DLS support engineer can quickly reroute your voice calls from your extension to your mobile phone or PDA.
How secure is DLS Hosted PBX?
The hosted communications servers are physically secured in DLS co-location facilities and network access to them is controlled by password and login. Additionally, each DLS Hosted PBX offers a firewall which you can manage allowing you to further restrict access. Traditional phone tapping methods are not applicable to VoIP. For highly secure requirements, DLS offers free VoIP encryption.
Does DLS offer toll-free numbers?
Yes, we do. You'll be able to keep your 800 numbers or obtain new toll free numbers. It will be treated as another DID number on the hosted PBX service.
What kinds of tools are available to end-users to manage this PBX service?
The DLS Hosted PBX management portal offers variety of detailed call, fax, agent and campaign reports. It provides comprehensive interface for administration, maintenance and provisioning of every aspect of your VoIP service. Each change to your hosted PBX service is tracked and logged.
Does DLS Hosted PBX Support 911?
DLS Hosted PBX offers E911 using the
Intrado
network. Our e-911 solution has unique capabilities that, for example, address the situation in which a business has multiple locations all served by the hosted service but the business has moved a phone number from one location to another. Since 911 requires the call to be routed to the Public Safety Answering Point (PSAP) associated with the physical location, end users are responsible for calling into our support center to register their new 91 address to ensure the 911 call is routed to the correct PSAP with the correct phone number. Here's another example that demonstrates that what we can do with IP is much better than what a business gets with a traditional PBX solution. As far as a local numbering plan, each phone will have a specific DID that does not need to be published in a public directory. In other words, only the customer's main number needs to be published. A 3, 4, 5, or 6-digit dialing plan is available for internal PBX extension dialing, depending on your organization's needs.
What phones does DLS Hosted support?
DLS Hosted PBX supports many industry standard SIP handsets. The
handset compatibility list
depicts phones that are currently supported and can be automatically provisioned by the DLS Hosted PBX. With every new version release
DLS
continually adds support for new handset models. The service will work with many Cisco, Polycom , Linksys, Grandstream, Yelling and Aastra SIP phones. Also, any analog phone or fax machine can be supported using a VoIP analog telephone adapter, like a Linksys PAP2 o Sipura 2102.
What about VoIP Quality of Service (QoS)?
DLS network engineer determines VoIP bandwidth requirements based on the usage information provided by you. DLS also offers an option of transmitting voice traffic over a managed IP network. This network is engineered for voice traffic and prioritizes voice over data, so that your voice quality never degrades.
What is the difference between voice mail and Hosted PBX unified messaging?
Standard voice mail solution is hosted and accessed through your phone keys. Unified Messaging is the integration of different electronic messaging and communications media (e-mail, SMS, Fax, voicemail, video messaging, etc.) technologies into a single interface, accessible from a variety of different devices.
How is DLS Hosted PBX service priced?
DLS Hosted PBX offers two pricing plans: Usage-Based and Unlimited. With the usage-based plan, call originating from any device connected to the DLS Hosted PBX are billed at a fixed per-minute rate. With unlimited plan – all calls within contiguous 48 states are included in the price of a seat license.
DLS Hosted PBX service pricing components are:
PBX Engine (there are currently three tiers of the engine: Class A: up to 30 seats, Class B up to 150 seats and Class C: up to 500 seats)
Seat license (any extension which can originate or terminate a call). Seat price may vary depending on which of the two billing plans your company chooses. DLS offers two calling plans – Unlimited and Usage-based. With usage-based plan seat price is lower and does not include unlimited calling within 48 contiguous states.
Optional Modules such as Fax-2-Email, Call Recording, Conferencing and Predictive Dialer
Who manages this Hosted PBX VoIP service?
DLS offers options for self-managed and DLS-managed service
With the self-managed service, your assigned PBX administrator will manage the system. Once you order your service, DLS order processing specialist will reach your technical contact to review service provisioning process. Your appointed administrator will schedule training on managing DLS Hosted PBX service. From an operator's perspective, this is very much like owning an in-house PBX or key system, without the difficulties of managing a physical equipment.
If you opt for a DLS-managed hosted PBX service, there is no need to conduct administrative training and DLS staff assumes all the responsibilities for administering your PBX system. Whenever you need to make changes to how PBX behaves, all you have to do is pick up the phone and call DLS's 24-hour support line.
What kind of savings can my company expect with Hosted PBX?
This depends on the size of the business, the phone service you currently use, call volume and communications features your business needs. Ask your salesperson for a return-on-investment (ROI) analysis. He can assist you in determining the value, relative to your current provider or other available solutions by analyzing your recent phone service records and bills.
How does your solution differ from other VoIP phone system solutions on the market?
Our Hosted PBX relies on a tested switching platform.
DLS Hosted PBX does not depend on a shared resource allocation system. Each customer receives dedicated hosted system sized specifically for individual customer. This system is not shared with other customer(s) and therefore is not impacted by the changes in their usage patterns. It is also not subjected to being potentially oversubscribed.
Business VoIP systems do need internet connections, but they also need electricity. Power outage or emergency—earthquakes, fires, snowstorms, and other natural disasters can all crash your network. DLS Hosted PBX servers are housed in a co-location facility complete with redundant network and backup power feeds. DLS Hosted PBX service will continue to operate and receive calls even if one or all of your business locations impacted by any of the aforementioned events.
DLS Hosted PBX service uses the redundant DLS backbone.
DLS can engineer and provision the last mile of your VoIP network to ensure quality of the voice services.
What are the benefits of using DLS Hosted PBX?
DLS Hosted PBX simplified management of telephone services and multiple on-premise phone systems by providing a single centralized phone service/system for all business locations
DLS Hosted PBX has more features than most high end enterprise telephone systems yet it is easy to manage
DLS Hosted PBX reduces the costs of telecommunications by:

lowering entry cost
providing simple and competitive calling plans
eliminating PBX hardware and maintenance and support contracts associated with it
reducing wiring costs by eliminating the need for dedicated phone wiring

DLS Hosted PBX constantly evolves and receives new software upgrades every 6 months with most new features added at no additional charge
With the DLS Hosted PBX services employees enjoy a real time collaborative platform that gives them seamless connectivity and smooth communication. Calls can be made and received anywhere reducing the constraints on workers. Employees can access functionalities from anywhere.
What does DLS Hosted PBX actually do?
DLS Hosted PBX offers a new fully hosted telephone, videophone and messaging services that replace the need for a premises-based phone system and the multiple vendors required to provide popular applications like voice mail, conferencing, and unified messaging. The features and applications are delivered to your phone via Internet. Hosted PBX provides central management interface that allow your administrator to manage all aspects of the service.
How does DLS Hosted PBX work?
DLS Hosted PBX Service is based on Voice over Internet Protocol (VoIP), a method by which voice is digitized and transmitted in digital packets rather than using traditional circuit-committed protocols of the public switched telephone network (PSTN). Every VoIP telephone has a unique IP Address. Thus Hosted PBX service translates the public phone network call to an IP address. When a call is received by DLS, the Hosted PBX switch looks up the handset's IP address and delivers the call to it.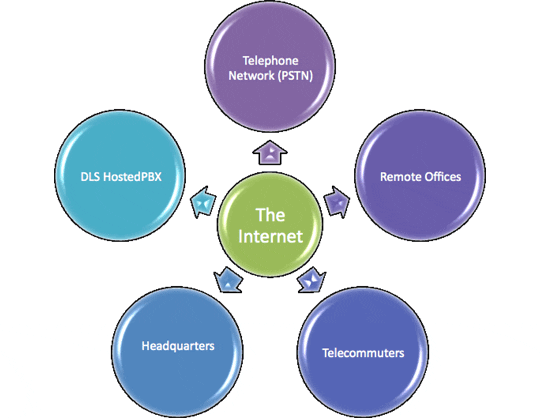 Probably the most significant difference with VoIP, as compared to PSTN, is that telephone lines are not assigned in a dedicated, predictable manner to support a voice call. Instead, line bandwidth for a VoIP telephone conversation is allocated on as needed basis, via packet switching.
Advanced VoIP telephony includes many enhanced features, such as voice mail, conferencing, presentation viewing, and unified messaging for cell and PDA devices. These service applications reside on hosted network servers, which deliver very fast response and provide all the features of Hosted PBX.
What is DLS Hosted PBX?
DLS Hosted PBX is an enterprise Voice over IP (VoIP) Hosted PBX service that offers capabilities exceeding most common on-premise telephone systems. Hosted PBX provides your organization with a fully functional, low-cost enterprise communication solution that replaces costly PBX or Centrex services. DLS Hosted PBX leverages the flexibility of an Internet Protocol (IP). With the capabilities of the Hosted PBX, your business can improve the way it communicates and reduce telecommunications costs.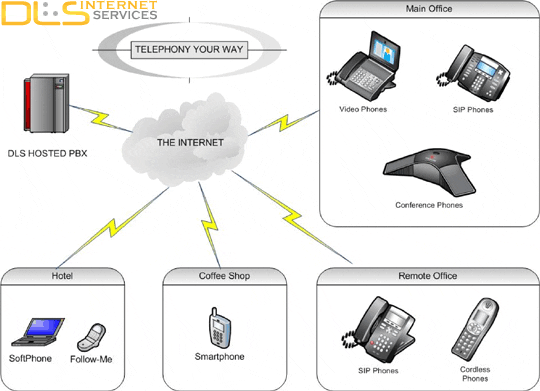 The service has a standard set of most Class-5 PBX features, such as auto-attendant, call hold, call transfer, voice mail, 3-way calling, Personal Locator (find me/follow me) and many others. Additional features include call center functionality (ACD), fax-to-email, predictive dialer, conferencing, call recording, etc. DLS Hosted PBX also features a web interface for controlling personal communications, including Find-Me/Follow-Me controls, Microsoft Outlook® integration with click-to-call functionality, call logs, and integrated messaging.
DLS Hosted PBX is a flexible, adaptive new approach to communications:
IT CAN REPLACE TELEPHONE SERVICE AND ON-PREMISE BUSINESS PHONE SYSTEM
IT COSTS LESS THAN TRADITIONAL TELEPHONY
IT IS GEOGRAPHICALLY INDEPENDENT: ALL USERS CONNECT VIA INTERNET
IT OFFERS A NEW BREED OF UNIFIED COMMUNICATIONS FEATURES
What is the difference between VoIP and Traditional Phone Service?
| | | |
| --- | --- | --- |
| | Traditional Phone Service | VoIP Phone Service |
| Voice Quality | Excellent | Good to excellent, varies; with provider, internet connection, and equipment. Many business VoIP providers will provide a guaranteed QOS for excellent voice quality. |
| # of Dropped Calls | Rare | Isolated to rare; some loss of data if heavy data traffic, unless provider guarantees service. |
| Coverage | Worldwide | Worldwide |
| Bandwith usage | Inefficient | Very efficient |
| Long Distance Rates | Can vary; can be costly | Relatively inexpensive; free if within network |
| Maintenance Costs | High, due to aging infrastructure, high cost of copper, and more costs. | Low, due to relatively light infrastructure requirements. |